Space.
It's been called the final frontier.
It's vast and unending.
It contains billions of stars and planets.
A little closer to home, space is something we run out of pretty consistently. I think that's called irony.
In this article, we will walk through some of the best pole barn ideas for your property. No matter which section you find yourself falling into, a pole barn can be the solution to your space needs. These pole barn ideas are designed for you to be able to create more space in your life.
How Pole Barns Can Help You
Do you spend the weekends "organizing, condensing, or re-arranging" your home? Maybe your basement or attic just cannot take in any more stuff. There are temporary homes for things, but nothing permanent.
Or is it a little different for you? You have a lot of BIG things that you need for work or your hobby; tractors, mowers, vehicles, tools, or equipment. There is no way these things are going in your house, but you can't just leave them outside either. A garage would be good, but they can get expensive!
Alright, one more. Do you want your own space? Having a room for relaxing is great, but what about a building. A pole barn could quickly turn into a sports cave, hobby studio, guest house, entertainment space, gym, lounge, or workshop.
Enough about the endless uses! Let's get to the styles!
Pole Barn Ideas: Styles
There are 5 main styles of pole barns you can choose from. Most other styles are customizable options, but the general uses are below! Wondering what makes a pole barn different? Check out this article!
Farm Pole Buildings
A farm pole building is an excellent place to house animals, equipment, and tools. Also called agricultural pole barns, these structures can be designed with pens for all types of animals. The most common are cow, sheep, and horse pole barns! There are a lot of pole barn ideas when it comes to the designs for the stalls for these animals.
Maybe you need to store crops or equipment in your farm pole barn. These pole barns can perfectly keep hanging crops, tractors, farm equipment, plows, fertilizer, and anything else you need to run your property. Custom design and choose the size of yours today!
Pole Barn Sheds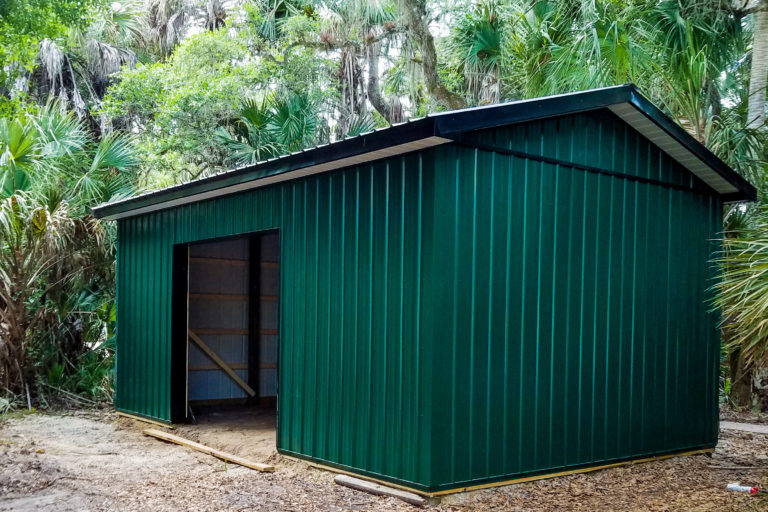 Pole barn sheds are a great way to add some extra space to your property. The best part about pole barn sheds is that they are around 40% cheaper than a traditional wooden shed. This will allow an affordable way to easily store yard/garden tools, mowers, and all of the extra things you don't want in your house.
You can also use your pole barn shed to incorporate some of the interior design ideas below…but don't skip ahead to those! Okay, you can if you really want to.
Pole Barn Garages
Vehicles exposed to the weather and day-to-day deterioration of being outside will harm some of the mechanics. Brakes, specifically, can begin to wear out more quickly in harsh weather conditions. A pole barn garage is another affordable option to house your vehicles.
When it comes to traditional garages, they generally are beholden to specific and smaller sizes. With a pole barn garage, you can store multiple cars, boats, tractors, RVs, and more! Why not add a loft to your pole barn garage and store even more items that are out of the way?
Commercial Pole Barns
On the list of pole barn ideas, a commercial barn is generally used for businesses. This type of post-frame building allows for the simple storage of any materials. The affordability to size ratio of the pole barn is what makes them most appealing for businesses. If you need to house a large number of products or machinery, a pole barn can be a great way to do it!
Pole Barn Cabins
A pole barn cabin is a vacation home for you and your family. You can insulate and finish the interior of this structure to be habitable in any season. This option is one of the lesser-known pole barn styles. This falls under pole barn styles because it is built differently from the other types. While it does have to do with the interior of the pole building, a cabin will have specific structural needs that a storage building won't need.
Save money in the long run, and start creating memories by having a getaway pole barn cabin you can easily use for your future vacations.
Pole Barn Ideas: Interior
These are some of our favorite ideas to incorporate when you have your new pole barn set up!
Pole Barn Hobby Shop
Hobbies tend to take on a ton of space in our homes. That drumset in your basement still rattles the whole house, even with shut doors and sound pads. The t-shirt design business you started now leaves Cricut products in several rooms of the house and enormous piles of t-shirts in others. You thought the basement would be perfect for refinishing furniture. Getting everything up and downstairs and worrying about ruining your floor are getting too frustrating.
One of the most popular interior pole barn ideas is its transformation into a place just for your hobbies. You can work on re-finishing 3 couches, 2 chairs, and a dresser without a second look at the floor or worrying about stairs! You can now practice music without fear of scaring the dog. You can make t-shirts for the whole family and have ample space to store them.
Pole Barn Workshop
"Handywork" is a hobby that tends to have a mind of its own. What began as a hobby now seems to be a part-time job. A hobby that is one step further starts to become something different. Whether you just love to use a lathe to make a baseball bat for your son to use in the yard, or you are working on that new farmhouse dining room table your spouse has been asking for…a workshop is one of the best pole barn ideas.
There are too many tools to keep in your home. You know that a simple trip to Home Depot or Lowes can actually lead to you bringing home even more! Create a space that is uniquely yours with a pole barn!
Pole Barn Bar
Continue to build relationships while enjoying food and drink together with your own pole barn bar! Whether it is Cheers, MacLaren's, Moe's, or Rosie's, we have all seen people sitting down together, having some good and fun conversations. Include a pool table, couches, TVs, and more for a custom and personalized touch on your new hangout space.
Pole Barn Kitchen
Whether you need an extra kitchen for a pole barn apartment or you just love cooking, design your pole bark kitchen to maximize appliances and space. Install multiple ovens, a microwave, a huge island, shelving, storage, a gas burner stove, and more! How do you know what size your pole barn kitchen should be? Take a look at the common sizes we have seen!
If you are transforming your pole barn into anything where guests could spend time, a kitchen may also be perfect for an easy way to feed them without going back to the house.
Pole Barn Gym
Keeping up with working out is tough. It generally starts on January 1st and ends on January 5th. Wouldn't it be easier if you had a space that you could make into your personal gym? You could do that in a basement or spare room…but can you put a basketball court in those places? I think not.
Whether it's basketball, volleyball, or big exercise equipment…you can have the space to burn calories in new and creative ways.
Pole Barn Game Room
Another of our favorites on the pole barn ideas list is the game room. What comes to mind when you picture a game room? It could be multiple video game systems with TVs for all of your friends to come over. It could be a ping pong table, pinball machine, air hockey table, foosball table, and darts! It could be a mountain of board games with a table big enough for the neighborhood or a culmination of all of these options.
Create the perfect space to play your favorite games. Virtual, board, or table, a pole barn can allow you to create an ideal spot for your family and friends to engage in competition.
Pole Barn Man Cave
A man cave has no actual definition. But you know one when you see it. It often involves sports team decor, a mini-fridge, a large TV, comfortable old couches, elements from a game room option, pieces from the kitchen option, + more! Whatever you want to be in your man cave, you can get the clutter and tacky tangibles out of the house!
Cheer as loud as you want for your team in your new outdoor space. Invite the guys over for the championship party! Now you finally have a place for that Joe Montana bobblehead no one else seems to be as fond of.
Pole Barn Office
Working from home has never been easier. Set up a home office in a pole barn. Whether you have the option from your current job or are looking to venture out on your own, a pole barn office is very affordable for your first home office. It allows you to have your own space while also being around to help with the kids. It gives you the freedom to "go to work" but always be home for lunch.
Enjoy virtual meetings that don't get interrupted by the dog or screaming children. A home office is one of those pole barn ideas that won't go out of style.
Pole Barn Ideas: 3 Things To Remember
The last thing that is worth mentioning are actual accounts from customers who have purchased pole barns. This list is a short section on what they wish they would have done differently when having their pole barn built.
I wish I had a pole barn loft – that extra upstairs space in your new barn seems to be one of the most desirable additions. You have the freedom of a second level, more space, and additional rooms underneath if you choose!
I wish I had a bigger pole barn – We have found that customers tend to take 3 of our interior ideas and put them all into one pole barn. If there is even a slight chance that you will need more space in the future, why not have a bigger space created instead of regretting it later.
I wish my pole barn was finished on the inside – You may think that your pole barn garage doesn't need to be finished. But a day may come when you want to transform ½ of the space into an office. It is less of a hassle to have your pole barn contractors finish the inside of the area for you ahead of time!
Pole Barn Ideas: Conclusion
Each person is made uniquely and has desires, talents, and tastes specific to them. One of the things that makes pole barns great is the blank slate from which they start. You have the power and say in how your finished product looks. Tailor it to your hobbies, work, needs, or interests! Talk to your pole barn contractors about your vision, and then watch it come to life. If you need extra features and add-ons, check this out for more inspiration.
If you are still looking for more pole barn ideas or a contractor to help your dream become a reality, we would love to be there for you! We absolutely love it when people allow us to be a part of creating their space. We have designed and built over 2000 pole barns to date and have no plans of slowing down. Submit a free quote for your pole building to get the conversation started! With a variety of pole barn styles available, we are the people for the job,
We hope this article has helped get your creative blood pumping, and we look forward to hearing from you soon!