Why Are Gambrel Roof Pole Barns Worth Building?
Gambrel pole barn buildings are one of the most excellent and widely used pole barns today. Gambrel pole barn provides excellent drainage due to the steeper slope of the roof. This makes it perfect for windy and snowy environments. Gambrel Pole Barns also offer extra attic space while strengthening the roof structure. Most pole barns are made with a carport on the side, but the gambrel pole barn offers vehicle storage below!
Gambrel Pole Barn Roofs
Gambrel pole barns are one of the simplest yet unique roofs to build and design. Gambrel roofs are widely known for providing an excellent drainage system and maximizing extra space for the attic and loft. Gambrel roofs also give you the option of choosing multiple choices of materials.
Gambrel Trusses
Gambrel Trusses are framed using 2×6 and 2×4 wood lumber. The 2×6 wood gives strength and a long-lasting lifespan. 2x4s don't give you the same strength as 2x6s, but they are more affordable. Gambrel trusses are placed on the roof using a 16-foot on center.
Gambrel Pole Barn Pros
Gambrel pole barns last longer if an experienced contractor installs the gambrel roof and uses high-quality material. The overall design gives more space for the ceiling height, and you can use the extra space for a storage area. Gambrel pole barns provide you with a carport to store your vehicle from weather elements.
Other Pole Barns
Are you looking for some extra space for your vehicles? Or space for a more extensive workshop for your DIY projects? Browse through our 2-car pole barn garage. If you need even bigger space for multiple cars ranging from sedans, SUVs, and trucks, we have pole-building sizes for everyone! Check out our 4-car pole barn garage option.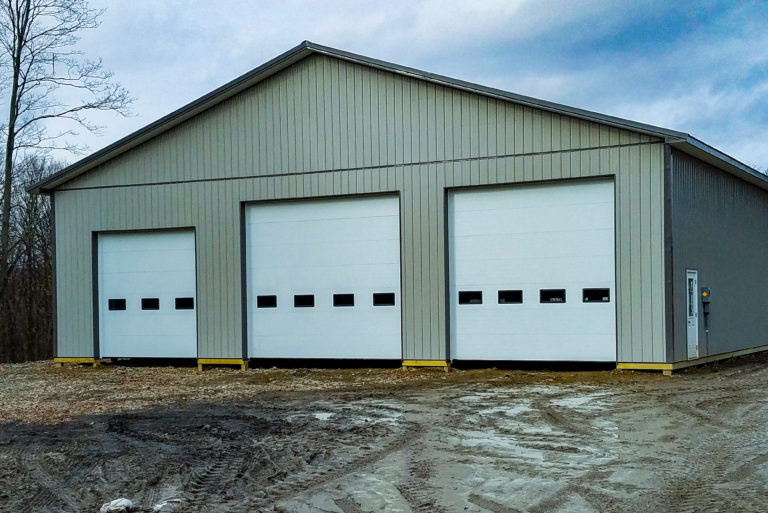 We design and build commercial pole barns for businesses that need a place to store their products and those that need a more prominent place for their equipment. We build pole barns and help design your new structure as well. We build pole barns for commercial uses in PA, MD, and NJ.
Pole barns are one of the most affordable structures you can choose. We have various designs and sizes of pole barns that are perfect for agricultural uses. For example, we customize pole barns for farmers needing a space for their tractors and horses. To customize and build your agricultural pole structure, submit a free quote!
And More…