If you are thinking about purchasing a pole barn, one of the first places to start is with the size. Pole barns come in many different sizes and styles, so finding the perfect one for you can be a little tricky. Let's look at the most common pole barn sizes and some sizes that may suit your needs depending on how you want to use it.
What Is The Most Common Pole Barn Size?
The most common pole barn size is 30×40. This is the most common overall size. It differs from residential to commercial. The most common residential pole barn size is 24×24. This size is specifically designed for a garage or carport. The most common commercial pole barn size will be in the 30×40 range.
What Are Standard Pole Building Sizes?
Standard pole building sizes include a range from a 10×20 to an 80×160 pole building. It is tough to give one size because every pole building is different depending on how the person wants to use it. We thought it would be helpful to break down the average pole barn sizes for each style!
When trying to plan and come up with your pole barn size, you want to think about a few things.
Cost-Benefit – What size pole barn is going to allow you to get the best value for how you are going to use it. You don't want to build a pole barn and realize you don't need half of it!
Growth – Is your pole barn one that can grow with you? If you know exactly what size you need but are positioned to grow in one way or another…that will affect you in the future. Choosing a pole barn that can "grow with you" is vital!
Land Available – If you are restricted with the size of your pole barn by the amount of land you have, that will be the primary indicator of how big you can build.
Average Pole Barn Sizes
Here are the average pole barn sizes, broken down by the style of the pole building.
Pole Barn Garage Sizes
Pole barn sizes for garages differ depending on the number of cars you want to house inside. Generally, they range from 1-4 cars, so let's take a look at the average pole barn sizes for each!
One Car Garage – Common one car pole barn garages are generally; 12×22, 12×24, 14×22, 14×24 or 16×24. This allows one car to fit comfortably while also having room to maneuver and a workbench or work area.
Two Car Garage – Two car pole barn garage average sizes include; 20×20, 20×22, 20×24, and 24×24. We recommend not going below 20×20 because that's when it can get cramped inside.
Three Car Garage – The width of three car pole barn garages should be above 30'. This will successfully allow three cars to be inside a garage without dented doors. Average sizes include; 32×24, 32×26, 36×24, and 36×26.
Four Car Garage – The biggest pole barn garage you will see is a four car. Average pole barn garage sizes include; 40×26, 40×30, and 44×30.
Pole Barn Workshop Sizes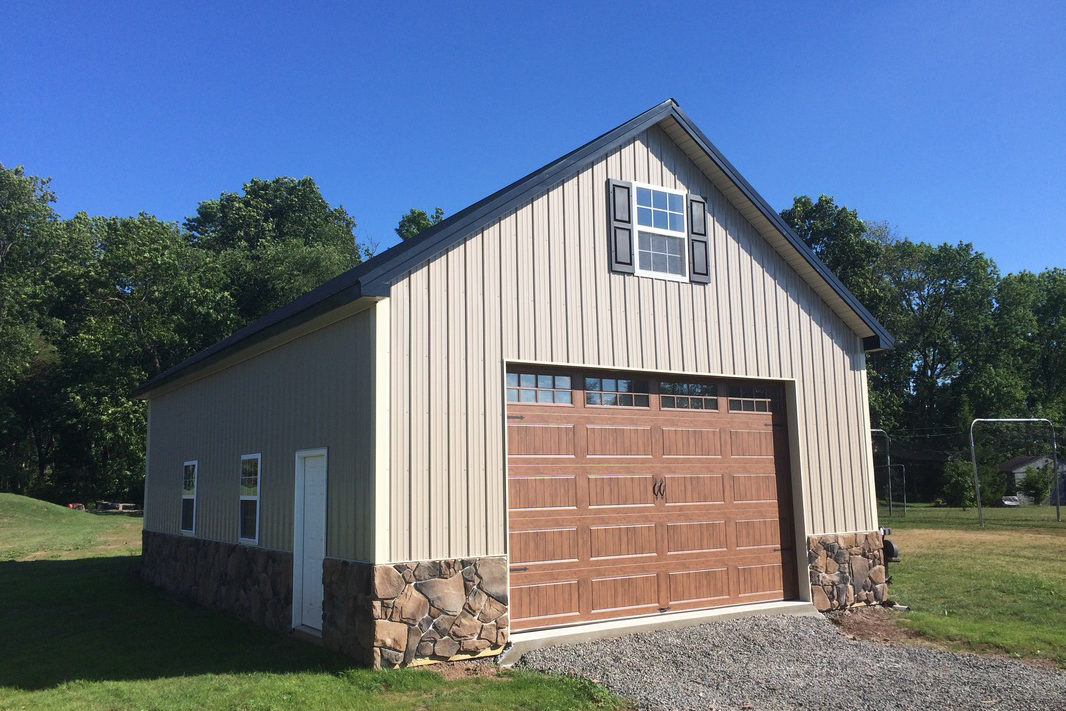 A standard workshop can range in size from 20×12 – 30×26. These pole barn sizes will really depend on how you want to use your pole barn shop. If you have specific questions, you can contact us so that we can give you our opinion on your desires!
Pole Barn Horse Barn Sizes
A pole barn horse barn is a cost-effective way to care for your animals. Outfit your pole barn with stalls, or choose to have a space to ride as well. The average size of a pole barn horse barn is 40×44. This will give you an excellent way to maneuver when getting your horses out of their stalls and into the field. They will also have ample room when they are resting indoors. For more information on horse pole barns, check out our blog.
Pole Barn Home Sizes
Pole barn houses, also called barndominiums, are trending like never before. These homes are an affordable way to increase the square footage of your living space. Average sizes include; 75×50, 100×80, and 60×40. Of course, this is the width and the length; you will have more square footage if you add additional floors!
Pole Barn Shed Sizes
Pole barn sheds are the smallest version of pole buildings. The average pole barn sizes for sheds are; 10×10, 12×12, 12×16, and14x16. These simple backyard structures will give you a very affordable way to store any materials you need.
How Many Square Feet Is A 30×40 Pole Barn?
There are 1,200 square feet in a 30×40 pole barn. To calculate the square footage of a pole barn, simply multiply the length by the width of your building.
How Tall Is A 2 Story Pole Building?
A 2 story pole barn ranges in height from 24' to 32' depending on the design. A single floor ranges in elevation from 10'-12' in most cases. If you add height because of the slanted roof…the tallest point will be 32' or less!
Pole Barn Property Spacing
To avoid the common "I wish I had built a larger pole barn" expression that we hear a lot…consider these three things when it comes to your property and your new structure.
Account For Extra Space – You will probably want space around your pole barn. If you have a plot of land that is 60×100…a 60×100 pole barn probably isn't the smartest choice. Make sure you plan accordingly with the space your property can afford.
Take 1 More Step Forward – The biggest regret we hear is that people wish their pole barn was bigger. Once you have a good idea of what pole building you want…take another step forward. Whether that's adding another garage bay, floor, or simply more square feet. You won't regret it.
Consider Adding More Inside Than Out – You can add external features to your pole building…Or you can add drywall and electricity on the inside to utilize the space of your pole barn well.
Our Pole Barns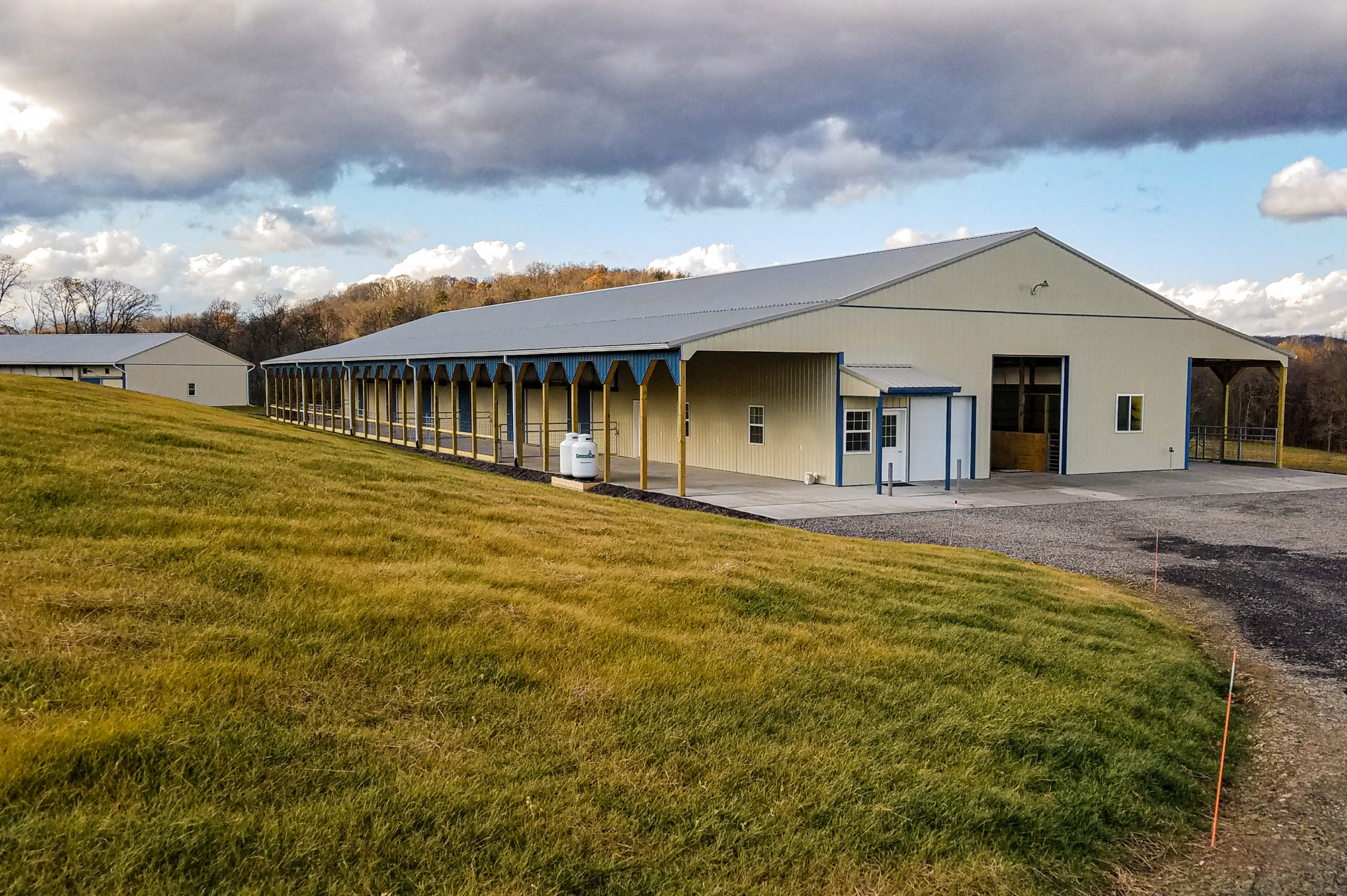 We believe that a quality pole barn can protect your equipment, your vehicles, and your family. We just happen to be really passionate about building them. Can we build your next pole barn? We have pole barn styles to fit all your needs. Contact us with any questions or fill out the free quote form to get an indication of your project cost! Thanks for reading!