Medium pole barns are most often found at the residential level. You could need one for extra storage at your home, or you may even want to start a small business on your property. In this article, we are going to take a look at the most common medium pole barn sizes, and uses so that you can figure out if they are worth it for your situation!
Medium Pole Barn Sizes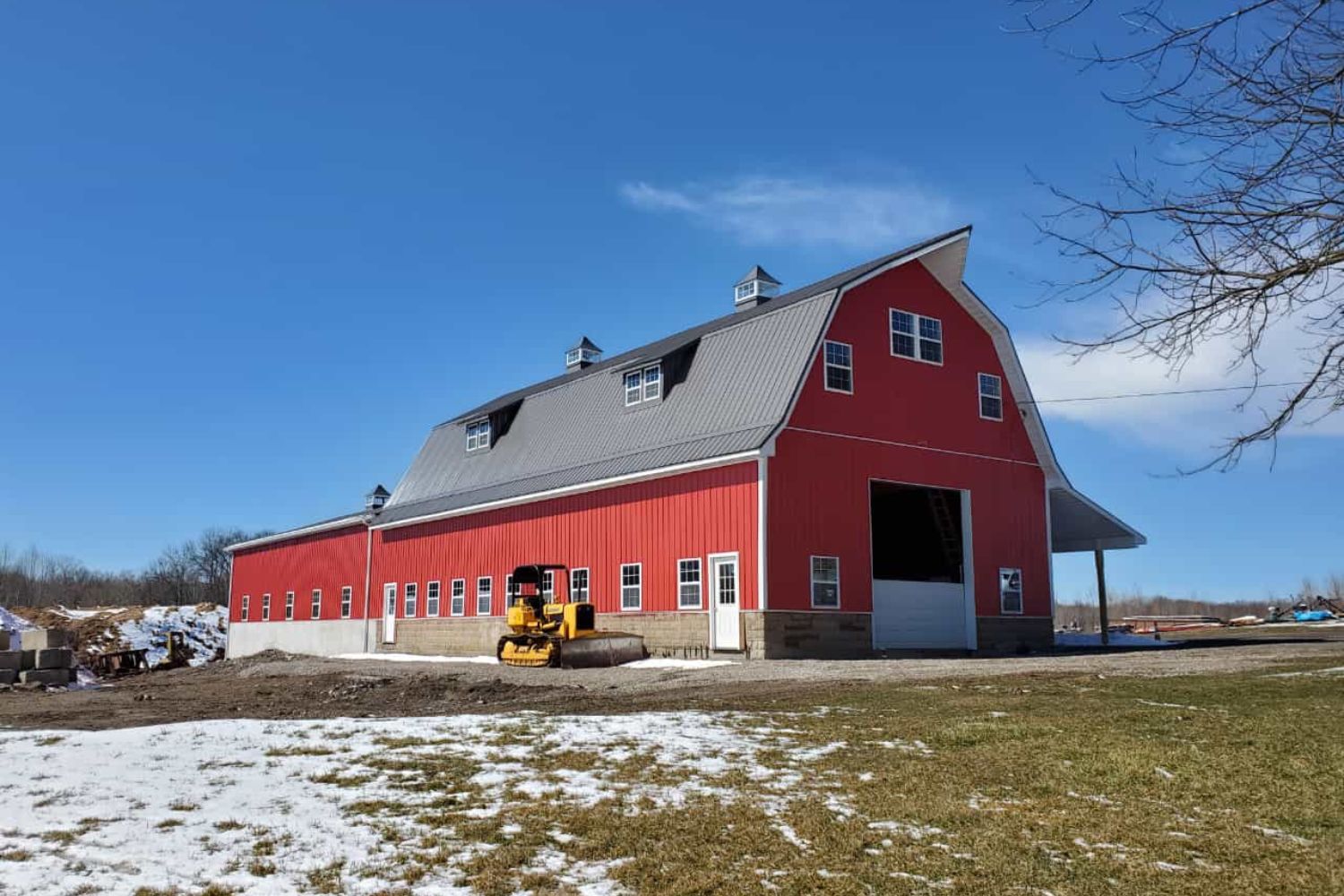 There are many different uses for pole barns, but the typical medium-sized pole barns range from workshops and garages to livestock barns and warehouses. The following are some of the most common medium pole barn sizes:
30×50
40×60
30×60
36×48
30×40
Pole barn sizes ranging from 60 feet wide and up are considered large pole barns.
Medium Pole Barn Uses
Medium pole barns can be used for a large number of things. They can be used for agricultural necessities and residential buildings, as well as commercial applications. Below are some popular uses for medium pole barns.
Medium Pole Barns For Livestock
Housing livestock is a popular use for medium pole barns and these barns can house animals like horses, cows, pigs, or other livestock. Pole barns for livestock can be customized with extra features to accommodate the needs of your animals and give them a safe living environment.
Medium Pole Sheds
If you need some storage space and a small shed or barn is not enough space, a medium-sized pole barn may be the choice for you. A pole barn this size can provide you with additional space to store farm equipment like tractors, hay, firewood, or other supplies. Consider a medium pole shed for additional storage space.
Medium Commercial Pole Barns
If you need a larger building than a simple shed for commercial applications but don't want to deal with the size or expense of a large building, then a medium commercial pole barn could be the perfect fit for you. Use a medium-sized pole barn for commercial storage for supplies or feed, or for storage or inventory for business purposes.
Medium Pole Barn Garages
For those who want a larger-than-average garage, a medium pole barn garage is for you. Whether you want to store several vehicles, farm tractors, RVs, boats, or four-wheelers, a medium-sized pole barn could be the perfect solution for your vehicle storage needs. Keep your vehicles safe from the elements and get the additional space you desire with a cost-effective pole barn.
Medium Pole Barns in PA, MD, and NJ
Are you looking medium pole barns for residential, agricultural, or commercial use? Look no further! Extreme Pole Buildings is happy to serve you and build you just the pole barn that is right for you. Simply fill out a free quote or get in touch with us and let us know any questions you may have. We are here to help!
Other Pole Barn Size Options
If you don't think that a large pole barn is the right size for you, check out our other pole barn options to find the best pole barn for you! Extreme Pole Buildings offers you options of pole barn sizes so you find the right pole barn for whatever needs you have.